Saturday, January 15th, 2011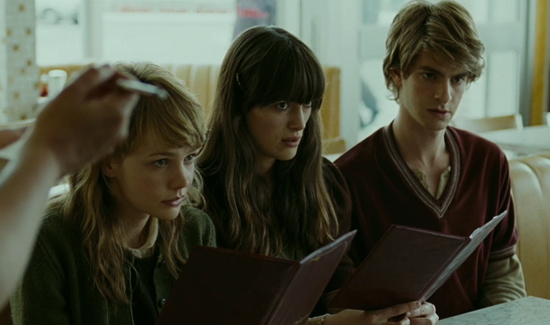 Andrew Garfield is getting a lot of end-of-year awards attention for his work in The Social Network, and while he does solid work in that movie, it's his role in Never Let Me Go that really breaks your heart.
Garfield plays Tommy, a young man who is curiously child-like - mature in certain ways, but never fully grasping the limitations of  the situation that these young people find themselves in. (Spoiler: they're clones and their organs will be harvested once they grow up). He has been protected from the world, but he also knows a few things. His body language is childish - he jumps in puddles, and in the scene pictured at left (from L-R Carey Mulligan, Keira Knightley, and Garfield) he stares in wonder at the menu at a diner, and later you see him sitting backwards in his chair, his body language perfectly capturing that of a child fascinated by the world around them. Yet he also offers comfort and security to Mulligan's Kathy, and has an emotional maturity around certain issues, including sex.
But seeing it slowly dawn on Tommy that there are no 'deferrals' - that being in love does not mean he can delay his donations - is the most heart-breaking part of the movie, a flawed film that nevertheless packs an emotional punch. Unlike Kathy, who takes the news with grace, almost nonchalance, as if she knew that the answer would be no, Tommy looks legitimately horrified. Garfield makes the ensuing emotional breakdown, extreme as it is, true to this sad, innocent character. Though all the performances in the movie are good, it is Garfield that worms his way under your skin and stays there.